Things To Do In Charleston Top 10 Best!
Submit YOUR Things To Do In Charleston Top 10 Best!
Or view the Top 10 list of others.
The biggest question out there is "what are the best things to do in the Lowcountry?" Well here are the top answers as surveyed by both locals and tourists. Keep in mind, there are tons of great experiences in Charleston. If you don't see a favorite here, then vote for YOUR Charleston bests at the end of this page! Peruse the site index to the left for a more in-depth look at all the opportunities available throughout the city.
Keep reading to uncover some of the best of Charleston!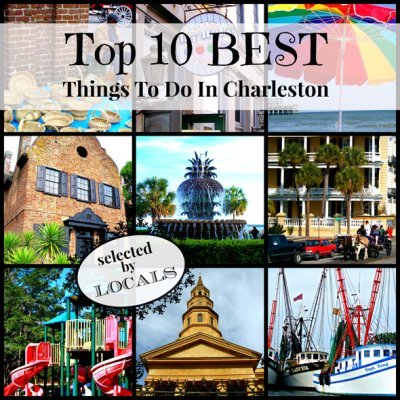 Things To Do In Charleston Top 10 Best:
1. South Carolina Aquarium
The Aquarium boasts they are Charleston's most visited attraction. And why not?! Kids and adults alike will be amazed at all the animals and history throughout. It's a great place to view the harbor too. Check out their new Albino Alligator Exhibit or even pet the stingrays! Too much to share here, you need to check it out yourself.
100 Aquarium Wharf
Charleston, SC 29401
843-720-1990
2. The Battery/ White Point Gardens
The Battery is located at the southern most tip of the Charleston Peninsula, where Murray Blvd. and East Battery (East Bay) Street meet. Part of The Battery is White Point Gardens and collectively they are the landmark that helps to define Charleston. If you don't have time to walk it, I highly recommend a leisurely drive-by to view the impressive mansion architecture and glorious oak trees! My first recommendation though would be to walk the park to indulge in the 18th century cannons, historical statues, picturesque gazebo and a perfect view of Fort Sumter in the harbor. In my book, your visit to Charleston is not complete without heading down to the Battery! Catch Rainbow Row on East Bay st. on your way there.
At Murray Blvd and East Battery (continuation of East Bay St.)
Charleston, SC
843-724-7327
3. Old City Market
The Market is consistently on our Things To Do In Charleston Top 10 Best list! A must see!
Dating back to 1841, Market Street features independent merchants selling their wares in an open air setting, including Gullah ladies weaving the ever famous sweetgrass baskets. The street is also lined with specialty shops and restaurants.
Market Street between Meeting and East Bay Streets
Charleston, SC 29401
Open M-Su, times vary by season and merchant
4. SpiritLine Dinner Cruise
Nothing beats a three hour evening cruise on the water! Especially when it comes with a multi-course dinner, live music and exceptional views of the Charleston Harbor!
360 Concord St # 201
Charleston, SC 29401-6305
843-722-2628
5. Middleton Place
Dating back to c. 1741, Middleton is a National Historic Landmark with an Inn, restaurant, America's oldest landscaped Gardens and Stableyard demonstrations of life in the 18th century. The magnitude of this plantation is awe-inspiring!
4300 Ashley River Road
Charleston, SC 29414
843-556-6020 or 800-782-3608
Open daily 9am – 5pm except Christmas. Adults $25, children 7-15 $5, under 7 yrs free.
6. Rainbow Row
This section on East Bay Street, built between the 1720's-1790's, was considered the 'slum' area of Charleston after the Civil War. It was renovated in the early 1900's and given Caribbean colors that are still seen today. This stretch of East Bay Street has been dubbed 'Rainbow Row' and has become a familiar 'face' of Charleston.
99-101 East Bay Street
7. Children's Museum
A great place for toddlers and kids of all ages! With eight interactive exhibits, children get hands on experience in the arts and sciences along with exploring creative thinking and problem solving.
25 Ann Street
Charleston, SC 29403
43-853-8962
Open Tues-Sat 10am - 5pm, Sun 1pm - 5pm. Adults and Children $7, under 1 yr free, members free.


8. King Street Shopping District
The most famous shopping area of Charleston is located between Broad and Spring Streets. Sprinkled throughout are great bars & restaurants in case you need a little 'sit down' between your sprees! This vibrant area is divided into three known sections:
Lower King Street District
Located between Broad and Market Streets, this well-known King Street Antique District, was voted "best antique shopping in the US" by readers of Travel & Leisure Magazine.
Middle King Street District
Located between Market and Calhoun Streets, and otherwise known as the King Street Fashion District, you'll find the trendiest stores and updated fashions in the area.
Upper King Street District
Located between Francis Marion Square (on Calhoun Street) and Spring Street, this King Street Design District houses some of the best interior design decor and home furnishing shopping in the country.
9. Waterfront Park
Bring a change of clothes for the kids on the hot summer days! They'll want to join others running through the fountain at the end of Vendue Range. In fact, one of these days I'm going to do it myself! Then enjoy a leisurely swing on the pier while looking for dolphins in the Harbor with the USS Yorktown as the backdrop. The Pineapple fountain of Charleston can also be found here with other intimate gardens and jogging paths along the water's edge.
Vendue Range and Concord Street and runs along the Charleston Harbor
843-724-7327
10. Folly Beach
15 minutes from Downtown Charleston
Folly Beach, or "the Edge of America," has been on occasion dubbed the 'eccentric' beach of all the Charleston beaches. Probably because it's managed to stay true to the old way of beach life as it was back in the day. However it hasn't been without its own challenges of upcoming developments of condos and obsessive beach houses.
Still, there is a wondrous air about Folly that you can only experience first hand while visiting there. There is great surfing, fishing on the pier, kid friendly currents, water sports near the only ocean front hotel of Charleston, The Holiday Inn, and great shopping and dining along Center Street. A stroll along some of the side streets allows an up close look at some of the old time conventional beach houses.
CCPRC runs the Folly Beach Park at the West end of the island. It's a $7 entrance fee per car, $10 per camper and $20 per bus. Normal hours are 10:00am - 6:00pm, with extended hours in the summer. Bicycles and walk-ins are free.
Submit YOUR Charleston Things To Do Top 10 Best!
Or view the Top 10 list of others.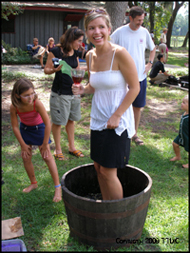 Things To Do In Charleston Top 10 Best:
Favorites from Locals & Tourists!
Everyone's invited to chime in!
Vote for your favorite things to do in Charleston Top 10 Best by filling in the form below. We'd love to hear from you whether you are a tourist or a local! Then come back often to keep your favorite at the top!
Disclaimer: The results for the favorite things to do in Charleston Top 10 Best shown here are opinions only. The Lowcountry has numerous offerings of high entertainment value for all ages and interests. To share your opinions with us, we invite you to complete the form below.
Things To Do In Charleston Top 10 Best: Have a favorite?
If you have more than one favorite in a certain category, or if you don't see your favorite listed, use the "Other" fields to list your additional choices for things to do in Charleston.
YOUR Top 10 Best Things To Do In Charleston!
We offer the collaborative efforts of our visitors to showcase our Top 10 Best list.

But what's YOURS?! I know there are greats missing from our list, so please help out your fellow visitors and contribute your own Top 10 Best list of Charleston things to do.

Even upload your favorite photos! Then send your page to friends and family to rate and comment on your submission... it's fun!

No need to register to this site and no username and password required to share your thoughts. Contribute at your leisure!

Some guidelines here:
* This is a list, so please number your content 1 - 10 and list your Top 10 favorites.
* You may include a brief statement as to "why" it's a Top 10 for you.
* If you have more thoughts to add, visit our other pages and make contributions there.

***If you want to just VOTE for your favorites and contribute to the tally of OUR Top 10 Best, then please use the form above.***
Top 10 Best of Charleston:
What Others Have to Say
Click on the links below to see contributions from other visitors...

Thank you for visiting Things To Do In Charleston Top 10 Best!
Now go have some Lowcountry fun!
---
Return to Things To Do In Charleston Home Page



---