Charleston Restaurants
Best Places to Dine in the Lowcountry!
Charleston has a flare for fare with plenty of great Charleston restaurants!
With culinary experts from around the country as well as bred from local distinguished schools such as Johnson & Wales and the Culinary Institute of Charleston, it's no wonder Charleston has become known for it's great dining options.
My husband and I can easily walk the streets of Downtown Charleston with a specific establishment in mind and once we get there, find ourselves meandering by all the available Charleston restaurants contemplating a change of mind. There are so many great places to choose from, it's even hard for locals to hit all the greats.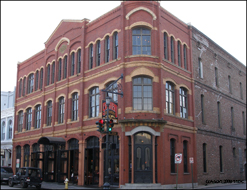 So again I find myself advising to come back often to try something new each time you visit the Holy City, and let your craving for the moment lead you! Not such an easy task (since I know I tend to frequent my favorites). But if you have an adventurous side of you, take a plunge and try something new. The variety in Charleston is great, so you'll get a treat each time. We've been to a large majority of the Downtown Charleston restaurants and I can't even think of a time we've been disappointed.
My biggest "BEWARE" that I can offer you is this: Do not wait until you are starving to find a place to eat, especially in the height of tourist season (spring & summer). It is not uncommon to have a wait of at least an hour before you can be seated! Keep this in mind if you have kids! You may even want to try to plan an early dinner at 4pm to beat the rush. If you get caught in the rush, just have patience and hopefully you've planned ahead and brought snacks to tide you over. Not all places have the space for you to wait at a bar to get appetizers, so you may be on the streets waiting to get a table.
Don't make the same mistake my husband and I did which was to move on to the next place hoping the wait will be shorter... IT WON'T BE!!! One night we went up and down Market & East Bay Streets hoping to find a short waiting list to no avail. We should have known better, but in the time we spent walking, we could have been seated at the first place we stopped... such a bummer. When in doubt, make reservations or at least call to see if they accept call-ahead reservations.
Other tidbits: Some of the best seafood and Southern cuisines in the country are found here in Charleston. While you'll find great eats Downtown, there is a great consensus among locals that the best seafood in the area is found at the restaurants on Shem Creek in Mt. Pleasant. Plus the views are outstanding. All the restaurants line the wide creek where boats can pull up alongside and dock to dine. Sunset dining.... amazing! No worries if you can't get over there, like we said before, Downtown has great food! But if you are coming to Charleston just for the seafood... we highly recommend finding a way to get over to Shem Creek. You won't be sorry!
The greatest thing about Charleston, especially at night, is that you will see folks touring the streets in torn jean shorts and flip flops on one corner and on the other there will be a couple in a tuxedo and beaded evening gown. I love that! So no matter your style or occasion for going out on the town, there are dining options for you. It's just good to know a little information ahead of time. So here it goes...
You will find just about every type of dining establishment possible from casual to fine dining. We've even noted K i d☺ F r i e n d l y restaurants to help families sort out all the available options Charleston has to offer. The listings here are tagged with descriptive information for your convenience to help you as you search for the best places to eat.
Here is a quick guide for Downtown pricing:
$ Cheap – meaning up to about $20 ... it's Downtown!
$$ Moderate
$$$ Expensive
$$$$ Very Expensive – meaning much-much more than $20!

Downtown Charleston Restaurants:
To view our listings, click on your viewing preference below:
Happy dining!
---------------------
Have any favorite Charleston Restaurants you'd like to share? Submit a Restaurant Review. Or see the reviews of others.
Charleston Tourism Businesses: SUBMIT RESTAURANT INFORMATION HERE. We will be happy to include you on our site for free to better serve our visitors!
---------------------
Do You Have a Favorite Place to Eat in Charleston?
Share your story here!

Give us your review on your Charleston dining experience and help our visitors find great eats... or where to steer clear.

Even upload your favorite photos! Then send your page to friends and family to rate and comment on your submission... it's fun!

No need to register to this site and no username and password required to share your thoughts. Contribute at your leisure!
Charleston Dining: What Others Have Said
Click on the links below to see contributions from other visitors...

---
Return to Things To Do In Charleston Home Page
from Charleston Restaurants