Charleston Beaches
Where Lowcountry Fun
Meets Lowcounty Sun!
Who wouldn't love a day at the beach?!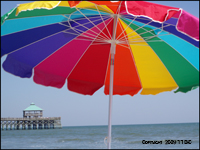 With any of the Charleston beaches, I think everyone is a winner! I only ask because I LOVE the beach! And if you gave me a choice of which one to go to, I wouldn't be too picky. Each one offers their own atmosphere and ambiance I'd be willing to put up with! Of course I have my favorite and I'll tell you about it below.
I could truly lounge at the beach all day long... and have done just that! Nothing beats listening to the waves roll in, while the seagulls beg for food from the playing children who find them a fun bird to chase. I even love listening to the hustle and bustle of nearby beach-goers as they set up camp or watching couples of all ages holding hands as they stroll their tootsies along the waters edge.
Yep... I'm a beach goddess I suppose. Yet I am aware there are some that just don't dig the beach. For those of you out there, I suggest looking throughout this website for other great Charleston past-times to participate in. But keep in mind, there really is something for everyone at any of the Charleston beaches listed below.
So whatever your interest in the beach... go on, get out there, and enjoy a little fun in the sun!
One important note of caution: For all you Northerners and fair-skinned beach-goers out there... WEAR SUNSCREEN!!!! Charleston beaches are below the Mason Dixie line... ie: we're in the South where it's warmer much more often than it's cold. That's because we get a lot of sun. Thus it gets hot. Thus the intensity of the sun, especially in the summer months gets very strong. Thus you WILL sunburn if you are not accustomed to being in the sun great amounts of time. Even if you have beautiful Italian skin like my husband.
You would think this is common sense among the masses, but another great past-time for locals is to watch all the poor vacationers out and about with a horrible, horrible sunburn. It hurts to look at them. But with great attitudes they are out there day after day "burnin' it up" again and again. OUCH!
As a fair-skinned girl myself, I can tell you that I ALWAYS put SPF 30 on my face and it still tans. I initially start out with SPF 15 everywhere else and once I get a little color (that is not burnt) I go down to SPF 8. I never drop below that and I always get a nice tan. That's also with being in the sun for only 1-2 hours a week... so it's intense! My Italian husband even starts out with SPF 8 and then goes down to SPF 4 all summer long.
So please take heed and invest in a little sun protection so you can make the most out of your days at the Charleston beaches!

South Carolina Charleston Beaches:


View Charleston, SC Beaches in a larger map. This will open a new browser.

Beachwalker Park
45 minutes from Downtown Charleston
Kiawah Island's Beachwalker Park is the island's only public access point to Kiawah's beaches. While this may be the farthest beach from Charleston, it is a ride well worth taking! Not only are the beaches peaceful and pristine, but the ride out there is breathtaking!
The only way to get out to Kiawah Island is to ride along a two lane highway that is canopied by grandeur, moss covered oak trees. I'd make someone else drive so you can sit back and enjoy the natural beauty that surrounds you.
Beachwalker Park is run by the Charleston County Parks and Recreation Commission (CCPRC). There is a $7 entrance fee per car, $10 per camper and $20 per bus. Normal hours are 10:00am - 6:00pm, closed November-February and extended hours in the summer.
Folly Beach
My favorite Charleston beach!
19 minutes from Downtown Charleston
Folly Beach, or "the Edge of America," has been on occasion dubbed the 'eccentric' beach of all the Charleston beaches. Probably becuase it's managed to stay true to the old way of beach life as it was back in the day. However it hasn't been without it's own challenges of upcoming developments of condos and obsessive beach houses.
Still, there is a wondrous air about Folly that you can only experience first hand while visiting there. There is great surfing, fishing on the pier, kid friendly currents, water sports near the only ocean front hotel of Charleston, The Holiday Inn, and great shopping and dining along Center Street. A stroll along some of the side streets allows an up close look at some of the old time conventional beach houses.
CCPRC also runs the Folly Beach Park at the West end of the island. It's a $7 entrance fee per car, $10 per camper and $20 per bus. Normal hours are 10:00am - 6:00pm, with extended hours in the summer. Bicycles and walk-ins are free.
Sullivan's Island
20 minutes from Downtown Charleston
A little quite get away is perfect at Sullivan's Island. Still primarily a small quaint residential town, it is also the site of Old Fort Moultrie.
There is only a handful of shops and restaurants along Middle street, but makes for a great place to pub-hop at night.
If you have small children, be mindful of the the strong currents that can occur here as there are typically no lifeguards on duty.
Isle of Palms
25 minutes from Downtown Charleston
Home of Wild Dunes Resort, Isle of Palms is quickly becoming an avant-garde beach town. A newly developed boardwalk with upscale shops, coupled with some of the best beach bars in town, gives this beach a flavor of excitement.
It still houses my all time favorite beach drink, found only at Banana Cabana... a Rotten Banana. We make it a ritual to go there for this flavorful banana, coffee ice drink and some Junkyard dogs, covered in cheese, onions, and yes... coleslaw! Yum!!!!
You still need to be mindful of some strong currents here.
Beach and Vacation Rentals
Check out our Charleston Hotels & Lodging section for details on locating great rentals for any of these beaches.

Have you found your favorite Charleston beaches? Share them with us!


---
Return to Things To Do In Charleston Home Page
from Charleston Beaches