Charleston Events
Where Entertainment Happens!
Welcome to Our Charleston Events Calendar!
Here you will find some great Charleston events listed throughout the year. Abounding with arts and culture, Charleston, SC is quickly becoming an epicenter of entertainment.
Click on a month below to start your search for the best things to do in Charleston!
OR... keep reading for more information about events in Charleston, including a listing of annual events that happen throughout the year.

January | February | March | April | May | June | July | August | September | October | November | December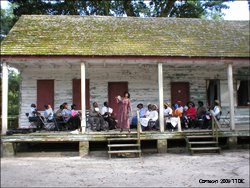 Below I have listed prominent festivals and events that take place annually in the Tri-County area. Keep in mind that an annual event may sometimes take place in a month other than what is listed below, usually to accommodate holidays that are early or late. So check the months before and after if you aren't able to find what you're looking for. We also may not have received the event details yet, so come back as time draws closer.
You'll see the wide variety of things to do year round throughout the Lowcountry. With some of the best South Carolina events out there, Charleston is definitely a happening place! I've been to many of these, but my all time favorite is the Spoleto Festival Finale at Middleton Place!
For a price that is about $10-15 more than normal admission, you get a whole day's worth of diversified, cultural entertainment. Not only do you have the opportunity to walk and tour the gorgeous grounds, gardens, house and live stock, but you can also bring a picnic with chairs and a blanket, and then enjoy a performance by the Spoleto Orchestra which culminates with an impressive fireworks display. It's awesome! My biggest advice for this event... stay hydrated and bring sunscreen. It's in June and it can be HOT! Scratch that... it IS HOT! Still, in my opinion, its definitely one of the top Charleston events.
Needless to say you'll always have something to do in Charleston! So gather up your friends, your significant other or your kids and get out there!
If you'd like to add your event to our calendar, just click on the pertinent month below to submit your information. It's easy and free!

ANNUAL CHARLESTON EVENTS:
Click on a month view other goings on in the Lowcountry.
Be a Tourist in Your Own Town (for locals only)
Lowcountry Oyster Festival
Lowcountry Blues Bash
Southeastern Wildlife Exposition
Charleston International Antiques Show
Charleston Fashion Week
Festival of Houses and Gardens by Historic Charleston Foundation
Lowcountry Cajun Festival
Walking Tour of Private Houses and Gardens by The Garden Club of Charleston
Blessing of the Fleet & Seafood Festival
Charleston Farmers Market (April-December)
Cooper River Bridge Run
East Coast Canoe & Kayak Festival
Family Circle Cup
Flowertown Festival
Folly Beach Sea & Sand Festival
Lowcountry Senior Games
Charleston Cinco de Mayo Festival
Charleston Farmers Market (April-December)
First Flush Festival at the Charleston Tea Plantation
Grace Episcopal Church Tea Room
Greek Festival
North Charleston Arts Festival
Piccolo Spoleto Festival
Spoleto Festival USA
Charleston Farmers Market (April-December)
Spoleto Festival USA Finale at Middleton Place
Sweetgrass Cultural Arts Festival
Charleston Farmers Market (April-December)
Palette and Palate Stroll by Charleston Fine Art Dealers' Association
Patriots Point 4th of July Blast
Charleston Farmers Market (April-December)
First Day Festival by the Mayors Office for Children, Youth and Families
Fishing for Miracles King Mackerel Tournament by Key West Boats
Charleston Farmers Market (April-December)
Fall Candlelight Tours of Homes and Gardens by Preservation Society of Charleston
Moja Arts Festival
Scottish Games and Highland Gathering
Charleston Farmers Market (April-December)
Charleston Garden Festival
Komen Race for the Cure
Latin American Festival
Mt. Pleasant Children's Day Festival
Taste of Charleston
Charleston Farmers Market (April-December)
Charleston Fine Art Annual Event
Harvest Fest
Holiday Festival of Lights (Nov-Dec)
Plantation Days at Middleton Place
The Battle of Secessionville at Boone Hall Plantation
"Whale of a Sale" by The Junior League of Charleston
Annual Spirituals Concert
Chanukah Menorah Lighting
Charleston Farmers Market (April-December)
Charleston Christmas Parade
Charleston Parade of Boats
Family Yuletide
Happy New Year Charleston!
Holiday Festival of Lights (Nov-Dec)
Marion Square Christmas Tree Lighting Ceremony
Kwanzaa Festival
Mt. Pleasant Christmas Light Parade
Share Your Charleston Recurring Events Here!
We invite you to share your event below if it takes place in multiple months throughout the year. If your event occurs in a single month, please click on the appropriate month above and enter your information there.

Follow these guidelines:
- Title: enter the name of your recurring event and the months it's held in
- Body Text: include the dates, time of event, address/place of event, pricing/fees and a link to your site for more information (no HTML allowed).
- No selling or advertising allowed. This will become a full informational web page of your event that others may share comments on.
- We reserve the right to edit submissions or refuse events that do not suit our site visitors.
Charleston Recurring Events
Click on the event links below to find detailed information of whats going on around town...
The Sound of Charleston - Concerts Year-Round!

Experience the musical sounds that help define Charleston's history - from gospel to light classics - coming to life in historic Circular Congregational …
---
Return to Things To Do In Charleston Home Page
from Charleston Events