Charleston Information
Facts & Figures of the Lowcountry
This is the place to find Charleston information in highest demand. History, maps, weather, zip codes, transportation and airport details are at your fingertips.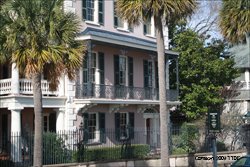 Charleston History
Charleston is one of the oldest cities in America. Rich with old world culture and architecture, this Holy City envelops southern traditions and its historical significances while sharing them with its visitors. I'll take you through a time-line of Charleston's most prominent historical events that has led it to the great city it is today.
Charleston Maps
Don't know where you're going? Need a perspective on the Lowcountry area. We've got the following maps at your disposal:
Greater Charleston Area
Historic Downtown Charleston
Folly Beach
Isle of Palms/Sullivan's Island
James Island
Johns Island
Kiawah/ Seabrook Islands
Mt. Pleasant
North Charleston/Airport
West Ashley
Charleston Weather
Average Charleston highs and lows are listed here along with the mean and precipitation averages. Worried about hurricanes? Don't let that stop you from planning a visit. As with any travel destination, weather is always a gamble.
Charleston Airport
The Charleston International Airport (CHS) is located in North Charleston, down the road from the Convention Center, North Charleston Coliseum, North Charleston Performing Arts Center and Tanger Outlet Mall. Even though it is an International airport, there's no need to be overwhelmed here. The Charleston Airport is small with only two terminals. If you are traveling by plane, check out the details listed here.
Charleston Transportation
Getting in, out and around town just got easier! Carta is the city's local bus system, taxis and rental cars are in abundance, rickshaws can get you anywhere Downtown and of course, there's Amtrak and Greyhound to get you in and out of Charleston if flying is not your bag of tea. This is your Charleston information source for transportation.
Other Charleston Facts & Figures
Find facts and tidbits on Charleston zip codes, population, area code, cost of living, hospitals, library and banks here. Also discover details of Charleston media including newspapers, magazines, TV and radio stations.
---
Return to Things To Do In Charleston Home Page
from Charleston Information: Facts & Figures