Join Our Charleston
Hospitality Partnership Program!
The Charleston Hospitality Partnership Program
Introducing a new amenity option for the hospitality industry that will give your hotel an edge over your competition by adding value to the experience of your groups and guests of your hotel.
Our website, www.Things-To-Do-In-Charleston.com, has proven to deliver convenience to the sales experience for both the guest and the sales staff. We have found that hotels that do not have an onsite concierge benefit from sharing our information, giving them a better price-value perception with their guests. This enables sales staff to potentially outsell the competition by offering this additional valued amenity to the customer, complimentary.
What We Provide
We have started to provide hotels with our Fact Sheets at no charge, or the option to use our Rack Cards and/or Business Cards. These three options conveniently direct your groups and guests to our website. Sales staffs use the Fact Sheets or Rack Cards in sales kits and in their presentations on sales calls. Front desk agents include the Fact Sheets or Business Cards in key packets for guests as they check in. Of course you may choose to utilize our collateral however works best for you. Sales staffs are even using Visitor Information pages on our site as a sales tool for potential guests who need Charleston information.
We want to share our services with you and your guests. Your participation in our Charleston Hospitality Partnership Program will bring the most sought after Charleston information into the hands of your guests. This becomes a direct reflection on the service you provide your guests with their desires in mind.
Charleston Hospitality Partnership Program Opportunities
Fact Sheets: FREE!
Request the series of FREE print-ready Fact Sheets through out Contact Us page.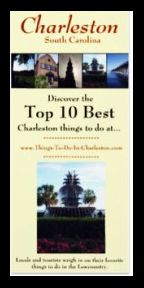 Rack Cards: 50% discount for all First Time Orders!
First 10: Free Try us out to see if you like what we offer your guests!
Qty. 50: $15.00/ $0.30 ea.
100: $27.00/ $0.27 ea.
250: $55.00/ $0.22 ea.
500: $75.00/ $0.15 ea.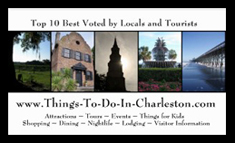 Business Cards: 50% discount for all First Time Orders!
First 10: Free Try us out to see if you like what we offer your guests!
Qty. 50: $6.50/ $0.13 ea.
100: $12.00/ $0.12 ea.
250: $25.00/ $0.10 ea.
500: $35.00/ $0.07 ea.
50% Off First Time Purchase!
If this is your first time purchasing our Rack or Business Cards, please use the below button to receive your 50% discount!
Delivery times will vary based on available stock at the time of purchase. We will let you know if your order will take up to 10 business days for processing.
Pricing is subject to change at anytime.
Thank you for your partnership! We look forward to working with you!
Kristine


---
Return to Homepage
Return to Things To Do In Charleston Home Page
from Charleston Hospitality Partnership Program