Biography of
Kristine Wilcox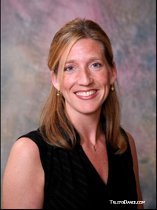 Kristine Wilcox has been teaching dance since 1993. However, dance was her second love.
The passion for Kristine began on the ice as a young girl in the small town of Avon, NY. Her talents were quickly recognized and adopted by Sundae Bafo-LaBel, coach of the National Champion Synchronized Skating Team from the Buffalo Skating Club. After two years of commuting to Buffalo (a two and a half hour drive performed three times a week), and two gold medal National Championships, her family decided to make the move to Western NY.

Among other numerous accomplishments, Kristine's skating career resulted in gold medal performances with five consecutive National and two International Championships as Co-Captain and then Coach's Assistant for the top US and Canadian Synchronized Figure Skating Teams.
She then went on to study dance with concentrations in teaching and choreography at the University of New York at Buffalo, while working with the great influences of Linda Schwiniuch, Tom Ralabate, Bill Thomas, Lynne Kurtziel-Formato, Frank Hatchet, Gus Giordano, Tressa Gorman-Crehan, Joyce Miller and Shelly Hain-Lewandowski.
Kristine was a featured soloist for Jean Ann Ryan Productions/ Celebrity Cruises, Zodiaque Dance Company, Carmina Burana, Dracula, New York on Stage and Zafeneth Productions. She was selected to pioneer choreography in the StudioWerks Dance Ensemble and UB Young Choreographers Showcase and has been hailed for her choreographic talents with Zafeneth Productions, The Eyes of Truth, Furman University and Kenmore, NY Dance teams.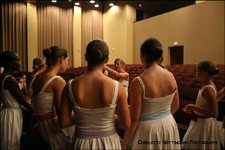 Kristine founded The Charleston Dance Company (CDC) in 2002, introducing their TINY MOVERS program in 2009 after the birth of her first child. As the current Executive Chairman and Founding Artistic Director, Kristine has achieved new heights for this youth dance group to include their acceptance exhibitions for the Piccolo Spoleto Festival and Walt Disney World Magic Music Days.
As a member of Dance Masters of America, Kristine is currently head of the ballet department for SC's oldest running dance studio, Trudy's School of Dance in Charleston, SC, where she also teaches advanced jazz and lyrical to teens and adults.
---
Thank you for visiting the biography of Kristine Wilcox!
Back To The Charleston Dance Company
Return to Things To Do In Charleston Home Page
from Kristine Wilcox Biography