Charleston TINY MOVERS
Creative Movement for Preschool
Things-To-Do-In-Charleston.com is happy to be a supporter of the TINY MOVERS (TM) program. TM is an outreach extension of The Charleston Dance Company, in affiliation with Trudy's School of Dance providing creative movement opportunities to preschool aged children in the Lowcountry.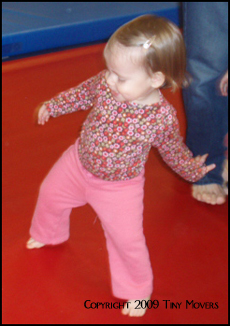 About Our Littlest Movers
TINY MOVERS is a creative movement program that introduces preschool aged children to the world of dance and movement exploration. Our syllabus, created by ABC for Dance, meets all NSAE (National Standards for Arts Education) Dance Standards for 2-5 year olds. We partner with area educators by going to their schools and teaching a 30-40 minute class to participating students. Optionally, the year culminates in a stage performance at the Gaillard Auditorium in conjunction with the recital for Trudy's School of Dance.
Benefits for the Children
Dance moves and body exploration are used to prepare kindergarten readiness skills.
Creativity, dance and thinking skills are promoted.
Focus is on successes to help grow self confidence and self esteem in each child.
A developed foundation for future dance training.
Children acquire a love for music, movement and dance.
Opportunity to showcase a performance at a professional stage show where family and friends can attend.
Classes include Learning Skills, Anatomy, Ballet, Jazz, Creative Movement, Qualities of Movement, Musicality and Social Dance.
Benefits for the Schools
Schools offer diversified programs by hosting a creative movement curriculum.
Professional, certified and experienced staff is provided through The Charleston Dance Company.
There is no cost to the school to host the program.
Ability to boast a National accredited preschool dance program.
Provide students with the opportunity to perform on the renowned stage of the Gaillard Auditorium.
How Does it Work?
The program runs in 6-8 week sessions with classes held once per week for 30-40 min. based on student ages.
A TM staff member will visit a school for a site visit to determine school eligibility.
School directors and the TM staff decide on an appropriate day, time and area of the school for the class to take place.
We provide you with a Parent Letter to hand out to the parents of all eligible children 2-3 weeks prior to the start of the program. This letter gives all the details of the program including dates, times and registration.
School staff is only responsible for collecting payment (if payment will come from the parents) and registration forms and then giving them to the TM staff member prior to the start of the session.
TM comes to the school with all needed materials for class and teaches the children in a designated area decided at the previous site visit.
TM takes care of any performance criteria which is optional per school and not made mandatory for participating students.
The program will be evaluated by both the TM staff and the school to determine if there is opportunity or desire for additional sessions to be held. There is no obligation to continue past the agreed 6-8 weeks.
Interested in Bringing TINY MOVERS to Your School?
For more information, fill out the form below to contact the Director.
---
Thank you for visiting Charleston TINY MOVERS!
Return to Things To Do In Charleston Home Page
from Charleston TINY MOVERS