South Carolina Lowcountry
by Kim
(Charleston, SC)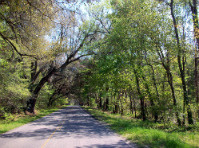 Charleston is not only a beautiful city downtown, but if you haven't traveled our back roads or seen it by water, you are missing some of the best reasons for living here. No matter where I go I always compare it to Charleston, and I constantly find that nothing compares to our city.

We are surrounded by water everywhere. The saying is "the Ashley River and the Cooper River came together to form the Atlantic Ocean". From beaches to rivers to lakes, we have it all. Mesmerized by the waves or the rocking of a boat while you are fishing or just having fun with friends on a sand bar, you will understand why we love this special city of ours.

Then you travel our back roads to see our lovely old oaks covered with Spanish moss, and you realize that they have a tale to tell also.

We have so much history here that you can't learn it all in school or a single week of vacation. You have to feel it by escaping into our waters, traveling our streets and viewing our beautiful buildings and wildlife.

So the next time you come to visit us, find one of our boat captains or tour guides to take you for a trip of the city. Don't forget to pull up to any one of our many restaurants on the water and enjoy seafood the way it should be cooked.

If we move at a slower pace it's because we are absorbing everything this city has to offer and we wouldn't have it any other way.


Join in and write your own page! It's easy to do. How? Simply click here to return to Your Charleston Photo Gallery.