Historic Buildings of Charleston, SC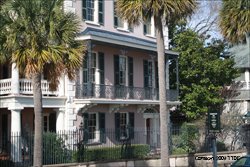 Nothing captures exquisite architecture of the past like the historic buildings of Charleston, SC.
Here are the highlighted buildings that draw the most attention, but all you really need to do is walk the streets of the off-beaten path through Historic Downtown Charleston to get a flavor for the times.
Touring Charleston is a sensational glimpse into the 18th and 19th centuries. You can't help but imagine what it was like in the height of those days, when these and other prominent buildings that create the skyline of Charleston were invoked.



Historic Buildings of Charleston, SC:
Please note that pricing and hours of operation may change at any time.
Be sure to contact the attraction directly for the most current information.

College of Charleston
"Founded in 1770, the first municipal college in America was built in 1724 on land set aside for educational purposes. The present main building was designed by eminent Philadelphia architect William Strickland, built in 1828, and paid for by voluntary subscription by the people of Charleston."
St. Philip and George Streets
Charleston, SC 29401
843-953-5507

Dock Street Theatre
One of my favorite Charleston attractions!
Dating back to 1809, this was originally constructed inside the Planters Hotel and built on the site of one of America's first theatres dating 1736. A replica of a Georgian Playhouse. Dock Street Theatre is closed for renovations until 2010.
135 Church Street
Charleston, SC 29401
843-577-7183 Box office
843-720-3968 Business office

Drayton Hall
One of my favorite Charleston attractions!
Dating back to c. 1738, Drayton Hall maintains its nearly original state and is the oldest preserved plantation house in America that is still open to the public.
3380 Ashley River Rd
Charleston, SC 29414
843-769-2600
Daily except Thanksgiving, Christmas Eve/Day and New Year's Eve/Day

Middleton Place HouseTop 10 Best!
Dating back to c. 1741, Middleton is a National Historic Landmark with an Inn, restaurant, America's oldest landscaped gardens and stableyard demonstrations of life in the 18th century. The magnitude of this plantation is awe-inspiring!
4300 Ashley River Road
Charleston, SC 29414
843-556-6020 or 800-782-3608
Open daily 9am – 5pm except Christmas. Adults $25, children 7-15 $5, under 7 yrs free.

Morris Island Lighthouse
One of my favorite Charleston attractions!
A famous Charleston landmark that is isolated on a barrier island and is subject to the sea at high tide. It is listed as as one of the top 100 cultural sites in the state of South Carolina by the Heritage Trust Program Board.
Located offshore of Folly Beach

Old Exchange and Provost Dungeon
Dating back to 1771, this prison of American Soldiers during the Revolutionary War is "one of the three most historically significant buildings of colonial America." Originally it was built as the the Exchange and Customs House.
112 East Bay Street
Charleston, SC 29401
843-727-2165

Powder Magazine
Dating back to 1712, this is the oldest public building in North and South Carolina. It's purpose in defending Charleston in time of war was to store powder. It serves as a National Historic Landmark.
79 Cumberland Street
Charleston, SC , SC 29401
843-722-3767

Did you find your favorite Historic Buildings of Charleston? Share them with us!
---
Back To Charleston Attractions
Return to Things To Do In Charleston Home Page
from Historic Buildings