Best Hibachi and Sushi Restaurant, especially if your on a budget.
by Ashley
(Walterboro)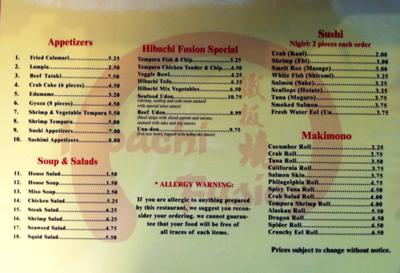 My boyfriend and I go to the movies in Ladson quite frequently and when we do, our go to dinner place is Hibachi Fusion. The food is amazing and surprisingly cheap. The service there is always above reproach and the servers are really friendly. I highly recommend the Shrimp Tempura and the Chicken plate for dinner and their fried cheesecake for dessert, it is from another world.
Another great thing about Hibachi Fusion: they are kid friendly, complete with a special menu just for them.
Join in and write your own page! It's easy to do. How? Simply click here to return to Favorite (and not so favorite) Charleston Restaurants.